Partners from ACR organise a design thinking workshop with students from the Higher Technical School of Building of Madrid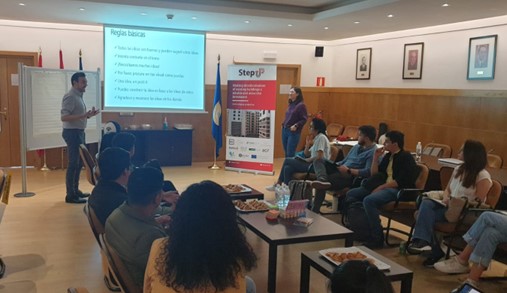 StepUP project partners from ACR organised a design thinking workshop with students and researchers with the objective to define strategies to overcome existing barriers when implementing new industrialised technologies in the energy rehabilitation sector.
The session, organised in collaboration with the Higher Technical School of Building – Polytechnical University of Madrid (ETSEM-UPM), was celebrated last 15th of March in Madrid, Spain. The workshop, that also included a presentation of the StepUP project, aimed at promoting the communication and collaboration within the innovative ecosystem. 
Jesús Miguel Alonso, innovation director at ACR, and María Ibañez, head of R&D projects at ACR, facilitated and moderated the workshop which counted with 15 participants exploring and discussing about new common lines of research between industry and academic centres.
The methodology of the session started with the definition of the challenge to be solved, followed by an initial brainstorming. After this, all the participants selected the ideas with the greatest potential to finally develop and define them in more detail with the objective to achieve a final conclusion.
The ETSEM-UPM has the objective to train highly qualified people in the field of building and technical architecture, offering quality training that meets the challenges of knowledge and responds to the society needs.

This project has received funding from the European Union's Horizon 2020 research and innovation programme under grant agreement no. 847053.
This website reflects only the author's views. The European Climate, Infrastructure and Environment Executive Agency is not responsible for any use that may be made of the information it contains.
SUBSCRIBE TO OUR NEWSLETTER