StepUP research paper presented during the NSB Conference 2020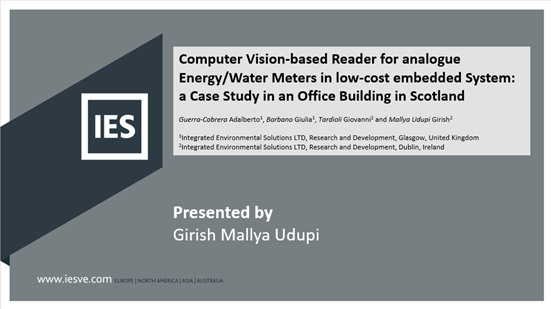 StepUP project has been presented during a session held within the 12th Nordic Symposium on Buildings Physics (NSB 2020), celebrated last 7th – 9th of September.
Project partner Girish Mallya, Software Engineer at Integrated Environmental Solutions (IES), participated at the session "Energy performance of buildings", which included a presentation of the paper "Computer Vision-based Reader for analogue Energy/Water Meters in low-cost embedded System: a Case Study in an Office Building in Scotland", compiling the results of the testing of a non-intrusive computer vision for quick and efficient energy readings performed in Scotland's StepUP project pilot.
During the session, Mallya explained that the novel non-intrusive computer vision-based reader, developed by IES, can generate energy readings at 10-minute resolution using a Raspberry-PI, a traditional webcam and an LED light. OpenCV, an open-source computer vision library, is used to detect and interpret numeric values from a 7-segment display in a heat meter, which are in turn uploaded to a cloud-based energy platform to create a complete operational data set enabling detailed analytics, fault detection and diagnostics (FDD) and model calibration.
Mallya proposes the implementation of a computer vision-based reader for analogue energy/water meters via a low-cost embedded system that can turn analogue building information into operational data. This is especially relevant for the determination of cost-effective energy conservation measures for each building.
The benefits of implementing this approach include being able to increase occupants' privacy, reduce the risk of energy investments and have access to otherwise unavailable data.
IES researchers have validated the accuracy of the method in 100 samples, resulting in a 92% of efficiency on deriving the rate of change between readings. IES will continue to work for increasing accuracy by testing the method in multiple lighting conditions and camera positions and more representative digit templates.
The NSB Conference is the biggest and longest international conference in Building Physics and is focused on the heat, air and moisture transfer in buildings, and on aspects in microbiology, building services and energy performance linked or strongly interacting with building physics.

This project has received funding from the European Union's Horizon 2020 research and innovation programme under grant agreement no. 847053.
This website reflects only the author's views. The European Climate, Infrastructure and Environment Executive Agency is not responsible for any use that may be made of the information it contains.
SUBSCRIBE TO OUR NEWSLETTER