StepUP participates in the 1st Congress on Rehabilitation 2023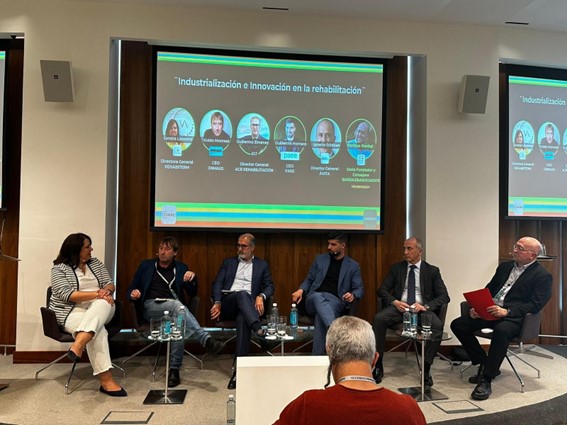 Guillermo Jiménez, General Director at ACR Grupo, presented the StepUP project during the 1st Congress on Rehabilitation, held on April 20 and 21, 2023. His participation was during a round table touching on industry and innovation in rehabilitation.
Along with the participation of StepUP partner ACR Grupo, the round table was participated by Guillermo Hornero, CEO at PEE Construcción Passivhaus-ECCN, Sandra Llorente, General Director at Rehabiterm,  Ignacio Esteban, General Director at Grupo Avintia, Koldo Monreal, CEO at Onhaus Global System. The session was moderated by Enrique Bardají from E.BARDAJI Y ASOCIADOS / ARQUITECTOS.
Apart from the StepUP project, developing solutions to boost the number of deep energy renovation processes in Europe, Jiménez also presented the BuildUPspeed project, aming at accelerating the volume and depth of deep renovation of the EU building stock, supporting the EU renovation wave, by introducing and implementing a Market Activation Platform, specifically for the promotion and implementation of industrialized renovation solution.
The congress, promoted by InMat, Garrigues and Grupo CIARE, focused on the importance of industrialisation and innovation in rehabilitation and had the aim to offer an meeting point to all actors in the constructive and building sector.

This project has received funding from the European Union's Horizon 2020 research and innovation programme under grant agreement no. 847053.
This website reflects only the author's views. The European Climate, Infrastructure and Environment Executive Agency is not responsible for any use that may be made of the information it contains.
SUBSCRIBE TO OUR NEWSLETTER