Presentation of StepUP-research paper during the eSIM Conference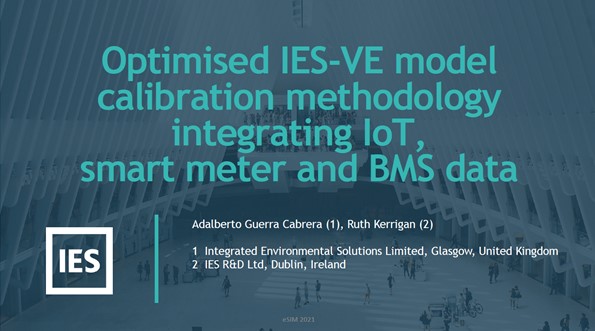 Adalberto Guerra Cabrera, Senior Researcher & Consultant at the Integrated Environmental Solutions Limited (IES LTD), has presented the paper "Optimised IES-VE model calibration methodology integrating IoT, smart meter and BMS data" during the session "Simulation in Practice" held within the eSIM Building Simulation Meets Building Data Conference in the 14th of June 2021.
The paper, which results are part of StepUP project, introduces an iterative calibration methodology aligned with the latest calibration guidelines and IES' best calibration practices. The goal is to integrate the information captured by BMS, IoT, smart metered data and ML predictions into the physics-based model following a "best of the two worlds" philosophy, in line with the core principles of the StepUP methodology. The process involves the use of state-of-the-art sensitivity analysis and optimisation-based parameter fine-tuning. The presented case study is an office building in Glasgow that is also the virtual pilot for the StepUP project.
The presentation was very well received, and attendees in particular appreciated the novel use of automation tools for the IES-VE software. The progress made in the last two years through research supported by the StepUP project enables the energy modeller to automate trial-and-error iterations that would take hours or days to do manually. Hence, we believe that this workflow is a substantial improvement of the process to create accurate digital twins of existing buildings. This is a key starting point to reliably achieve decarbonisation in renovation, the ultimate goal of the StepUP project.
The eSIM Conference 2021, celebrated online, is the rescheduled version of eSIM 2020, the biennal conference of IBPSA-Canada, one of the largest and most active 28 Regional Affiliates of the International Building Performance Simulation Association. The programme of the event included an important variety of paper presentations, industry discussion panels, special networking events and keynote talks focused on building simulation and building data.

This project has received funding from the European Union's Horizon 2020 research and innovation programme under grant agreement no. 847053.
This website reflects only the author's views. The European Climate, Infrastructure and Environment Executive Agency is not responsible for any use that may be made of the information it contains.
SUBSCRIBE TO OUR NEWSLETTER